Skip to Content
Invisalign® – Clear Aligners Cambridge
Improve Your Smile with Invisalign® Clear Braces
For patients who desire straight teeth without the embarrassment and discomfort of brackets and wires, we offer Invisalign®. This proven technology is a removable, comfortable, and virtually invisible method to get the beautiful smile you deserve. Using a series of clear plastic aligners, Invisalign® gradually moves your teeth to their correct alignment. For two weeks at a time, you'll wear a set and remove them only for eating, drinking, brushing, and flossing. As you progress through each set of aligners, your teeth gradually shift according to the treatment plan until they reach their prescribed position. A treatment plan is typically about a year. Cambridge Centre Dental Care wants to help you achieve your best appearance and oral health. Contact us to set up a visit with our dental team to discuss Invisalign® for your teeth. We'll answer your questions and create an ideal plan for your mouth.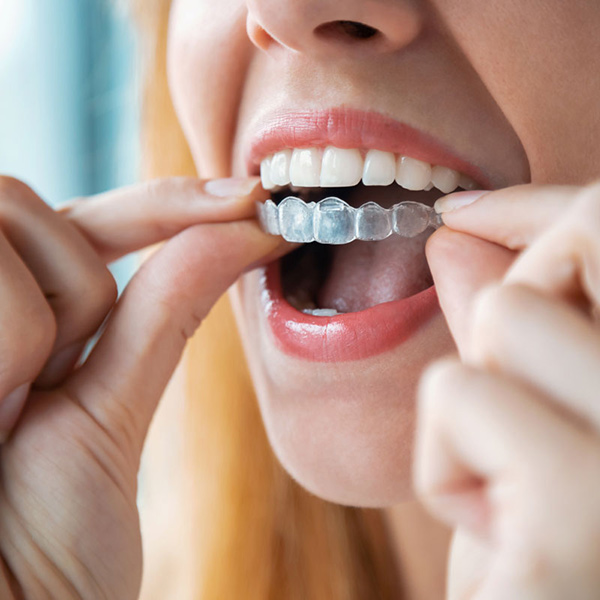 Clear, Comfortable, & Made for Your Lifestyle
The average timespan for treatment with Invisalign® is about a year. During your plan, you'll receive new custom-molded aligners at regular intervals to continue straightening your teeth. Our dental specialists will decide the total number of aligners you go through. Since the aligners are virtually invisible, you won't have to endure unwanted attention due to unsightly hardware in your mouth. The truth is most people won't even notice the aligners unless you point it out to them. They're also easy to remove for eating and oral hygiene and comfortable to wear while they're in. These clear plastic aligners don't affect your active lifestyle during treatment, either. With no concern about metal wires or bands irritating your mouth, you can stay active and enjoy sports and other physical activities. You can also remove the aligners to indulge in treats like sticky or gooey snacks, as well as special events where you'd like your smile to shine.
Smile Confidently During & After Your Treatment
Cambridge Centre Dental Care knows you want to look your best wherever you go, including school, work, and when you're out with your friends. If you conduct meetings or speak to groups, your appearance can be a concern. Invisalign®'s nearly invisible aligners straighten your teeth without letting people know about it. Once your treatment finishes, you'll enjoy better confidence when you're alone or with people. We'll help you get a stunning smile comfortably and discreetly, and you can join people across the country who have successfully straightened their teeth using Invisalign®. Give us a call today to schedule an appointment with our dental team. We'll evaluate your current dental alignment issues and develop a custom treatment plan that earns you a perfect smile.