Skip to Content
Dental Implants in Cambridge
Dental Implants in Cambridge Fill Spaces Left by Missing Teeth
For a permanent solution to missing teeth, dental implants restore patients' beautiful smiles. The caring staff at Cambridge Centre Dental Care knows the effect missing teeth can have on your health, appearance, and self-esteem. That's why our team offers implants to fill in the gaps where teeth have been lost. These long-term replacements offer many benefits that go beyond your appearance, including your oral function and bone preservation. You'll also feel comfortable again in social situations with the confidence to eat your favorite foods and smile for photographs. Our team will explain the full process of getting dental implants and determine if you're a good candidate to receive them. If you're worried about the significance of installing dental implants, let us set your mind at ease. Dental implants have become one of the safest, most predictable, and successful methods of replacing your natural teeth. We invite you to contact our office to find out more information.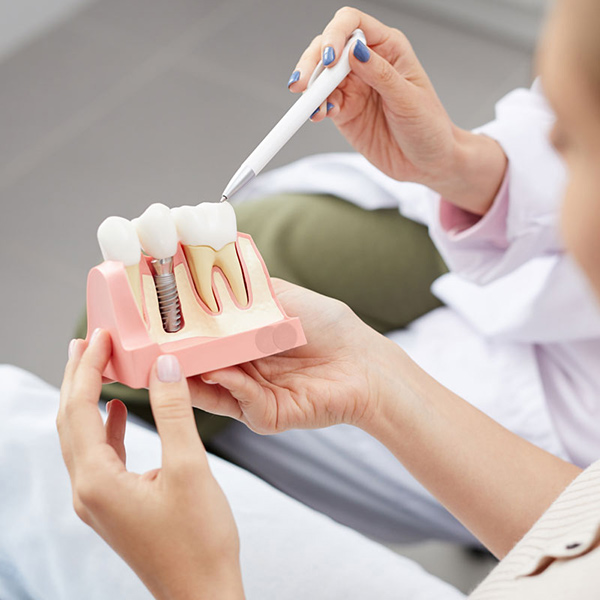 Preserving Your Health & Happiness with Implants
If you've lost a tooth, the teeth surrounding it will move from their proper positions to occupy the empty space. With the tooth gone, your jawbone can also break down. These shifts in your bone and adjacent teeth can affect your appearance and make you look older. While dentures and bridges replace your missing teeth above the gums, they don't prevent the jawbone from degrading. When you've lost one or more teeth, our team of talented dentists can fill the spaces with dental implants to restore your smile and preserve your jawbone and oral health. An implant consists of a small titanium screw that we place into your jawbone. It replaces the missing tooth root and functions the same way. We then attach a crown to the top of the implant that looks and functions like your natural teeth. When we finish, the dental implant will effectively keep your surrounding teeth in place and give you back your bite, speech, and smile.
Call to Restore Your Smile
Cambridge Centre Dental Care can also use implants to fasten dentures in your mouth securely, so you won't need to worry about slipping or shifting. Getting dental implants ensures an easy and comfortable replacement for your lost natural teeth. We're ready to help you regain your full rows of pearly whites for better chewing, speaking, and flashing a radiant grin. Don't let dental dismay deter you from opportunities for health and happiness. Give us a call today to schedule an appointment with our friendly dental staff. We'll discuss your options to restore your smile and help you regain a beautiful appearance and self-confidence.